A Kitchen Renovation So Simple You Can Do It Yourself
(In Just A Weekend)
Kitchen renovation can feel overwhelming. We make it easy. Pick your new door style, color, and pulls. Order through our website, and we will send you everything you need for brand-new looking cabinets – paint for your old boxes, new doors and fronts, new pulls and hinges, and tools to make installation easy. No pushy salesmen visits. No unknown contractors working in your house.
Get a quote in 5 minutes, without a pushy salesman.
Measure your existing doors and order.
(Est. time: Less than 1 hour)
We make and ship your kit.
(Est. time: About 10 days)
Remove old cabinet doors & repaint existing cabinet boxes.
(Est. time: 2 coats, around 5 hours, depending kitchen)
Install new cabinet doors, drawer fronts, & pulls.
(Est time: Around 5 hours, depending kitchen)
Brag to your friends and family.
(Est. time: Years!)
What You Receive
A complete KitchenMakeover.com kit ready for easy installation. A typical kit is 4-5 boxes containing:
Instructions
Drawer fronts
False fronts
Screws
Locator jigs to simplify installation
QR codes to video instructions
Matching paint for existing cabinet boxes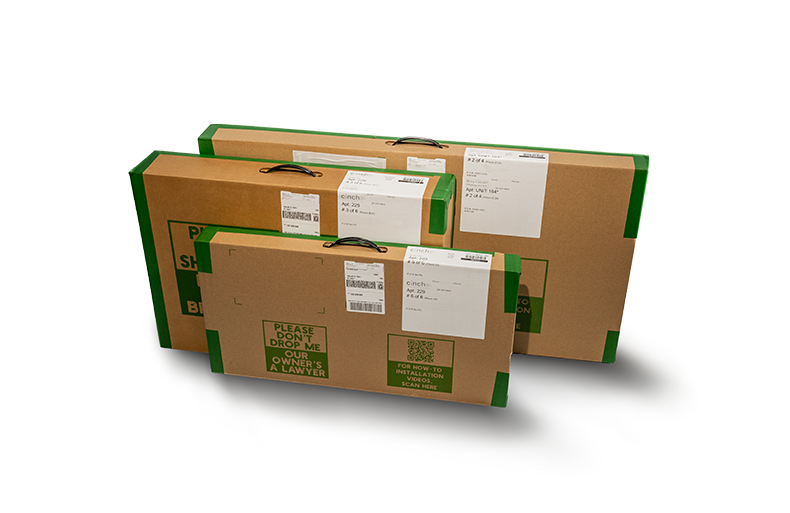 When is Refacing Not a Good Idea
We are not always the right fit for everyone. The below examples don't work:
Metal cabinets
Wood cabinets in bad shape
Wood frame made of plywood, particle board, or MDF
A change to the layout/floorplan
Unique woodgrain or style you favor
Customer Testimonials
I was one of their first customers when they opened. I just came back for my 2nd purchase for my mother in laws house as a birthday gift. We were quoted $4322 through another company and I was able to get my kit through them for $1100.
I was immediately impressed with the quality of the packaging, doors, hinges and pulls.  Everything was sturdy and solid.  With everything included, I was able to install in one weekend.  Really like the cabinets, not a single issue since we installed them. 
My kitchen looks so much better! I would highly recommend to anyone looking for cost-efficient kitchen makeover. Customer service was above and beyond.
Cost was a crucial factor in going with KitchenMakeover.com. I am very satisfied with the results. Our kitchen and bathroom look great. The customer service team was outstanding in assisting me with the process. With typical kitchen remodels costing several thousand dollars, KitchenMakeover is an ideal, cost-effective alternative for do-it-yourselfers.
We are very happy with our order, it's like having a brand new kitchen!  When the product is good and the supplies are provided, it makes the install process very easy.  I love my cabinets! 
WOW am I glad I found Kitchen Makeover?! My cabinets needed a serious makeover, and who thought it could be so easy to do it yourself.
This product completely changed the look and vibe of my kitchen and it's surprisingly very easy to install. The process is as straightforward as described on the website and the instructional videos are very helpful. The project was finished within 24 hours start to end at a reasonably slow pace and the end result is amazing.
I purchased the white shaker cabinet kit from them and I cannot believe how simple the install process was for my kitchen.
I found the ordering process to be extremely easy. Just needed a measuring tape. And customer service was very helpful, especially when I needed to order extra pulls and get the information about the paint color. It was easy to install the new doors and pulls (the guide blocks were a huge help).

I had a very limited budget for my kitchen renovation.  Because the doors and pulls were so cost effective I was able to reallocate my funds and have a new countertop and sink installed.

I am very pleased with the updated look. My kitchen looks brand new.